So you want to start a home lash extension studio! Kudos to you for taking the plunge to start your own business! But before you get started (or to help perfect the one you've already opened), you may be wondering how to make sure that your home lash salon is just as professional and customer-friendly as a typical commercial salon. This can seem like an overwhelming task, particularly if you're working within a budget or are planning on setting everything up yourself.
Never fear, LashBeePro is here! We've rounded up our experienced lash team to give you the rundown on 12 ways to help your studio compete with the best of the best:
1. Cleanliness: Maintaining a sterile, spotlessly-clean environment serves a twofold purpose: it increases your client's sense of peace during their appointment and builds their trust in you as a lash artist. (And of course, cleanliness has never been more important than during the pandemic.) Our stylists recommend having hand sanitizers, Clorox wipes, and sterilizers/any machines for keeping your tools clean on hand and visible at all times. Use the wipes and sterilizers to wipe down every surface before and after each appointment. An easy way to keep your home salon looking clean is to make sure your aesthetic is clean, too! If it fits with your business's brand, try softer, paler colors for your walls, furniture, and massage bed.
2. Clean Bathroom and Matching Aesthetic: Just like in a commercial lash salon, clients will have to wash off their eye makeup or use the bathroom. Even though it's your home bathroom, you should treat it as an extension of your home studio. Just as you would find in a salon bathroom, keep a bottle of lash shampoo, makeup remover, and a cup of spoolies and flocked applicators on or within reach of the sink. Keep the bathroom clean and sterile, and match its aesthetic to your studio's as much as you can — a small potted plant if you have one on your studio windowsill, a smaller landscape painting if you have nature paintings above your lash bed, some small lash decor, etc.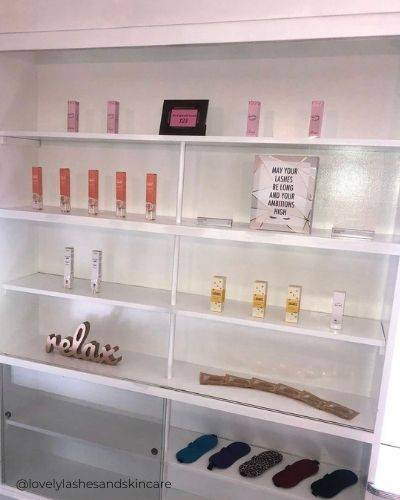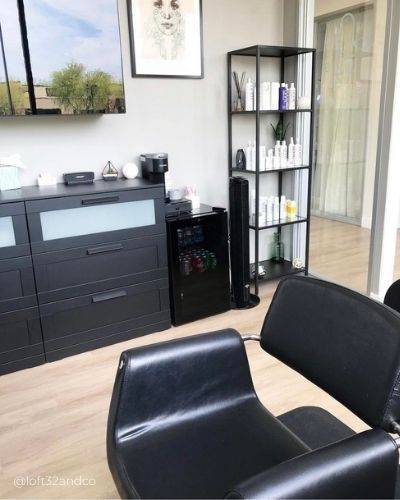 3. Open Space: Just because your home studio is on the smaller side doesn't mean it can't feel big and spacious! One easy trick? Try hanging multiple mirrors to give the illusion that your studio goes on for days — we recommend one in front of or on the wall next to your lash bed so the client can get a good look at their fresh sets, and perhaps one above your reception area (if you have one) to enlarge the space right when clients walk in or out. As a bonus, the mirror will reflect light, making your space feel brighter. Speaking of which...
4. Lots of Lighting: Part of opening up a space is warm, bright, lighting. If your home salon is in a room with windows, make use of them by letting as much natural sunlight flow in as possible. If not, consider investing in artificial natural lamps, including professional lash extension lighting, to give even the most haphazard iPhone client pictures that extra salon-quality, professional oomph. Your clients will also be much more likely to post pictures with their new lashes inside your salon and tag you on social media if they can snap glowing, well-lit photos while still on the lash bed!
5. Invest in a Desk: Whatever aesthetic you choose for your home lash studio, we recommend finding a desk to match it and stationing your computer / tablet, cash box, menu and business cards, and other equipment on it. Use this desk as a tool to physically separate the check-in and check-out stages of a lash appointment from your actual lashing space, thus helping clients feel more like they're stepping into a sanctuary once they lie down. However, we understand that not everyone has enough room to fit a whole desk in their home salon. If you find yourself lacking the space for a desk, consider designating an area in your studio away from the client space to help it feel separate.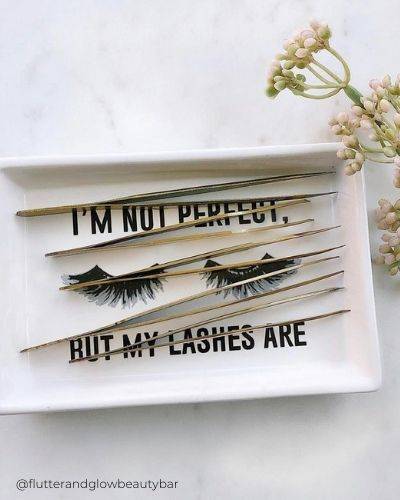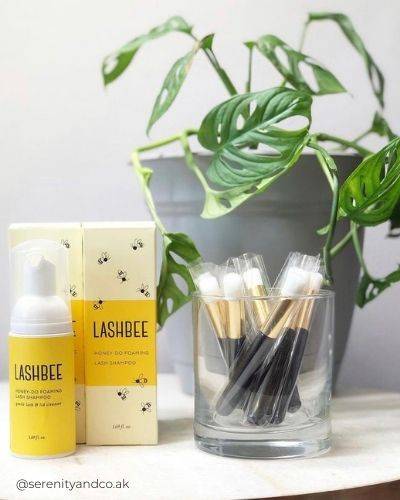 6. Make Check-out Process Easy and Professional: The key to providing the best lashing experience possible is by investing in professional products and services — and that extends to arenas outside of the purvey of the lash bed. You want to make the checkout processes completely seamless for your clients, and one of the best ways to do so is to use professional mobile payment processors, such as Square, that allow clients to swipe or tap their credit cards or pay through their phones.
7. Use a Professional Booking Service: Want to go the extra mile? Start offering clients a taste of the harmonious, cohesive experience you provide before they even set foot in your studio! If you're currently primarily booking clients through Instagram DMs or emails, we recommend switching to a professional scheduling software system, like Acuity or Square Appointments, to allow clients to book appointments directly on your website. They can even pay in advance — an excellent way to ensure that your flakier clients won't commit no-shows or deprive you of income. Not only will you impress your customers with your competence and efficiency, you'll save yourself the time and hassle of trying to keep track of bookings on your own. Having this one less thing to worry about with each client will help declutter your mind, thus allowing you to spend more quality time with your clients and imbuing you with that intangible yet oh-so-important professionalism and confidence.
8. Have Official Papers On-Hand: Make sure to have several printed versions of your lash service menu on hand! Consider purchasing a small stand to place on your desk. This will allow clients to leaf through their options while they wait, and perhaps even decide to tack on a few extra services. They may even take a menu to share with a friend. Similarly, order a stack of your business cards to keep next to your brochures. Marketing your lash business never ends, even once the client is inside your studio. Another great way to build trust? Consider framing and hanging your licenses, certificates, and any awards or recognitions you've received on the wall behind your check-in/check-out space! Let clients know at a glance that you've got the creds to take care of them.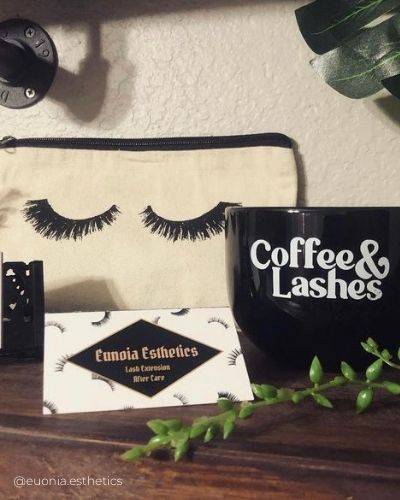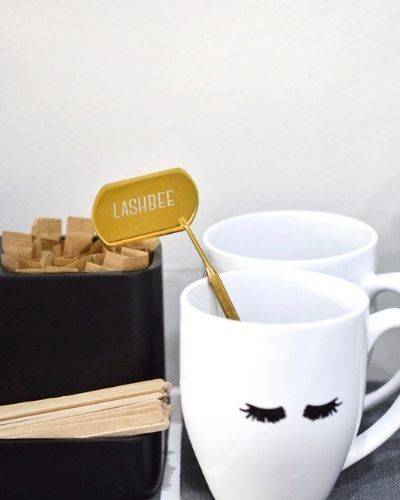 9. Match the Rest of Your House to Your Workspace: Each part of your home that the client must walk through in order to access your studio should, to the best of your ability, match the aesthetic of your workspace. If your bathroom and studio have plenty of natural lighting, try to mimic that in the hallway that leads to your studio with artificial lighting. If the client must enter the studio through a different room, if possible, you may even want to set up a small side table displaying some retail products, swag, or additional candy or treats in that room to continue the flow.
10. ...But Use Your House to Your Advantage: One of the greatest advantages to having a home lash studio is just that — you're at home! Don't be afraid to put your expanded in-home options to good use. Your client mentions she's craving a soda, and you know you have a few cans in your kitchen? Slip out and fetch her one! Is your client colder than usual on a freezing day? Pop over to your linen closet and grab her that super-warm quilt your grandmother knitted you for Christmas. Did a late afternoon client start her appointment complaining about an incredibly hard day at work? Pour her a glass of wine or tea and make her volume fill her most pleasant one yet.
11. Try to Keep Roommates/Family/Pets Away: This one is a little more dependent on what you want for your salon. Trying to establish a quiet, spa-like atmosphere? If possible, ask any roommates, friends, or family members you live with to either stay in their rooms or out of sight when possible. On the other hand, if you want your studio to have a more typical salon vibe or you know you have a particularly loquacious client coming up, feel free to let roommates pass through for a chat. It all depends on what type of experience you want to give your clients!
12. Display Trial Retail Products: Retailing aftercare products? Try displaying some sleep masks or aftercare kits on a small shelf attached to the wall next to your desk. Place a lash mug full of cleansing brushes or reusable lash brushes next to them to encourage customers to pop into your bathroom and give them a try. Depending on how much shelf space you have, we don't necessarily recommend storing all of your inventory in plain sight if you can help it. Leave the sample items in view and keep one or two of each item behind them to create a subtle sense of urgency.
We hope these tips help you launch the home lash studio of your dreams! Let us know how yours turns out in the comments, or tag us on Instagram when you post pictures of your fresh studio so that we can give you a shoutout!