In terms of careers, it's hard to beat being a professional lash artist! It can be a genuinely gratifying experience. Many lash artists specialize solely in offering clients services like extensions or lifts, but there is even more room for career progression.
From owning a salon to launching your personal brand, the skills and knowledge you've picked up along the way have the potential to open many doors. That's the beauty of being a lash artist! Despite the economic climate, this industry is continuously growing. As long as you remain passionate, your professional licenses and mastery certifications can take your career to the next level.
FULL-TIME OPPORTUNITIES
LASH SUITE
In this new era of personal service, the salon climate is constantly changing due to COVID-19. It's a great time to look into having your own private space before making the massive jump into buying your own studio. By lashing in the comfort of a private, enclosed suite, you have more control over sanitation when performing one-on-one lash services. Because of the flexibility, this allows for you to work more or less when you need to. Because you only pay a rental fee for a furnished space and make 100% of your commission, you won't have to deal with high overhead costs as you would owning a lash studio. Having your own suite to decorate and design can be a great way to build your brand, too!
MANAGER
Would you describe yourself as a hands-on leader with an entrepreneurial spirit, high energy, and attention to detail? If so, you're a dream come true for salon owners. The main objective of a salon manager is to ensure a memorable client experience and operate a profitable salon with happy, engaged stylists. You would be responsible for developing new marketing and sales initiatives, as well. Because you'll be the team's primary point of contact, maintaining a calm and reassuring demeanor is necessary. Some drawbacks to management include juggling competing priorities and stepping away from working directly with clients most of the day. The hours can be long, there's more responsibility, and keeping your team and client satisfied can be challenging.
SALON OWNER
Experienced lash artists with entrepreneurial tendencies can be ideal candidates for opening a studio or salon. Salon owners are the passion behind the business, with ultimate control over every aspect of how the salon looks and operates. You'll need solid business know-how as well as creative vision. Be prepared to take a step back from day-to-day lashing since you are more likely to be balancing the books or dealing with suppliers than applying lashes. Salon ownership requires having a solid business plan, detailed preparation, and among all else, patience. A successful lash studio needs good culture, quality employees, and an understanding of what its services are worth. Because running your own business is quite an investment, a smart place to start would be getting a management position or salon suite to gain experience in day-to-day operation before launching directly into a full-fledged salon with employees.
EDUCATOR
Although teaching is not for everyone, becoming a lash educator or brand trainer is extremely rewarding for some. Some lash artists have an eternal love of learning and can't help but seize an opportunity to help others further themselves professionally. These educational roles allow you to teach and impart your skills and knowledge to other aspiring lash artists, estheticians, and the like. You will need to understand and research emerging lash trends to develop both an engaging and relevant curriculum. Lash brands will have you partner up with their sales, education, and marketing teams to develop and implement a consistent curriculum. You would assist in creating class outlines, training materials, visuals, and other materials needed to implement educational content and lead the classes themselves.
Does a path in lash education sound like a good fit for you? LashBeePro is always looking for talented artists with a passion for teaching. Learn more about our openings and applyhere.
SALES
If you're naturally competitive and have a way of selling to your clients, you would make an excellent sales rep for a lash or beauty supply company. Because of the unique experiences, companies prefer associates with field experience like lash artists. Beauty supply distributors will usually have brand reps work independently while potentially requiring significant travel. You would bring in samples and marketing materials of lashing products to salons and artists in your assigned territory to get them to partner with the brand. You are responsible for meeting and exceeding sales objectives through manufacturer-provided education, sales programs, and ongoing new business development.
Salon owners and managers can be tough sells when it comes to cold sales calls. When becoming a liaison between a beauty supplier and a salon, you'll need to excel at being direct but not pushy. These positions also may require attendance at conventions, classes, and other special events that may require overnight travel and weekends.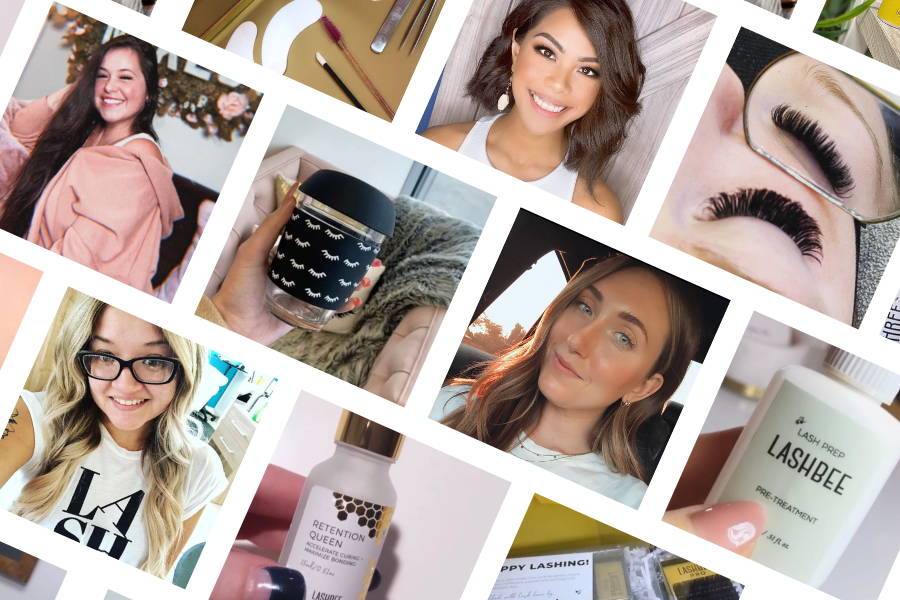 PART-TIME OR SIDE HUSTLE OPPORTUNITIES:

LASH CONTENT CREATOR
You routinely give your clients professional advice; why not get paid to write about it? Blogging is a great way to utilize both your creativity and love of lashing. You don't necessarily need a background in writing or journalism, although it helps! By being a lash professional, you have specific expertise that can give you the authority to write about it. You could start by freelancing for another lash brand or blogger and then potentially create your own site. With clients being a priority, you'll need to dedicate a few hours each week to your writing as well as decide how often you can realistically post on your blog.
Whether writing articles, taking photos, or creating videos, lash and esthetic publications always look for contributions. You could also become a copywriter for a lash company to write product descriptions, ads, or other promotional material for their brand.
Looking for a part-time content creation role? LashBeePro is always looking for talented lash artists who enjoy creating lash-focused social content. Learn more and apply here.
BRAND AMBASSADOR
Lash brands (ahem, like LashBeePro) want to feature lash artists who embody their company philosophy and LOVE their brand. Serving as a brand ambassador will give you the opportunity to share your love of lashes, strengthen your voice in the industry, and be part of a community of other inspirational lash artists, all while earning great rewards. Some lash brands base their eligibility not only on content but also on follower count and engagement. You would be required to post regular self-generated content, highlight brand-exclusive lashing products and use specific hashtags. You would share monthly content related to promotions, new products, or events that the lash brand would provide you. In return, you usually receive generous discounts, freebies, commission on sales, and sometimes more!
Sound fun? LashBeePro is always looking for energetic and skilled lash artists to join theLashBeePro Ambassador Program. We welcome new ambassadors every September and March.
READY TO TAKE THE NEXT STEP?
Like all professions, gaining new experiences is incredibly important for those looking to branch out. With practical experience, you can build up your resume and set yourself up for career success. These examples we provided are just some of the paths being a professional lash artist can take you. Your lashing skills will make you a valuable asset anywhere you choose to go! Want more career support? Contact us athi@lashbeepro.com.
Not yet a lash artist? LashBeePro is here to help! If you're a licensed esthetician or cosmetologist looking to jumpstart your lashing career, visit ourwebsite for available online classic or volume lash training.