As summer ramps up, it brings along waves of heat and humidity! As a lash artist, it's important to know how to choose the right adhesive for the various conditions you'll face in the dog days of summer. It will be just as important to properly monitor your environment and ensure your adhesives are in tip-top condition.
Some questions that frequently come up in the summer months:
How does high humidity affect lashing?
Adhesive cyanoacrylates — those friendly li'l molecule chains that make up lash adhesives — cure faster as temperatures rise. For most cyanoacrylates, an 8-10⁰ Celsius (46-50⁰ Fahrenheit) increase in temperature will cut curing time in half, while lower temperatures will make the adhesive more fragile and brittle.
When humidity is too high (typically greater than 70% for eyelash extension adhesives, but this varies by adhesive), the adhesive can "shock cure." This can result in a shrunken layer of adhesive and an effect called "blooming," in which a white byproduct appears.  
In hyper-humid environments, it may appear as if the lashes are going on perfectly but then when you brush them out, a bunch come right off! We recommend brushing every 15 minutes as you work to ensure this is not happening.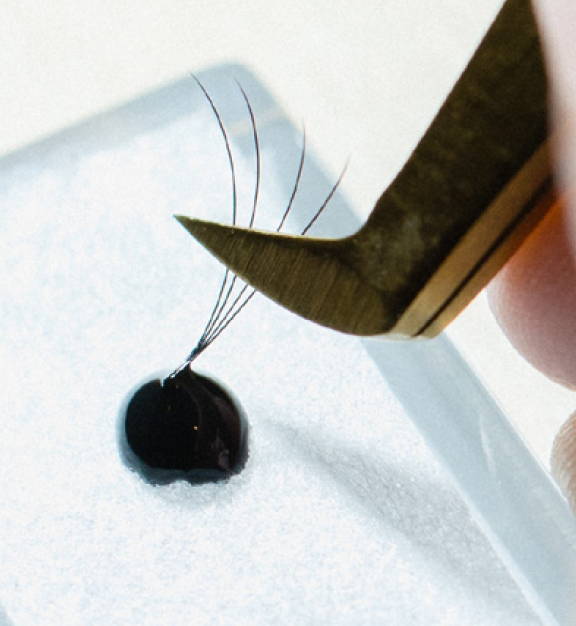 ---
---
What adhesives should I choose for high humidity environments?
The vast majority of eyelash extension adhesives will operate best at room temperature, or 68-75⁰ Fahrenheit. (Fun fact:For lash artists who work in strongly air-conditioned environments, our Low Humidity Adhesive actually works best!)
What do we use at our flagship LashBeePro studio? Philadelphia, PA experiences all four seasons, but in spring and summer months it's so humid, we're practically inhaling water with each breath! Our master artists use our Advanced Adhesive as we reach the 40-60% humidity range. Advanced does tend to move fast and high humidity makes the adhesive cure even faster! If you need a few extra seconds for that ideal placement, we recommend our Flexible Adhesive in the 40-60% range.
If you are looking for something for the 60-70% mark, we would recommend using either the Flexible (of course) or High Humidity Adhesive. Since the Flex is a slower drying adhesive, the higher humidity will speed up your dry time. It'll go down to a 1-3 second dry time range in very high humidity conditions.  
In short, we recommend keeping both Advanced and Flexible on hand as summer humidity grows! We also recommend reading up on our adhesive purchasing guide.
How can I optimize my lash studio in high humidity environments?
When you are working in high humidity, you may want to try:
Using a dehumidifier to remove excess moisture from the air around you

Switching to a slower-curing adhesive (e.g., LashBeePro's Flexible Adhesive)

Replacing your adhesive drop every ~10 minutes

Use a nanomister or retention bond-booster to help speed up the process and maximize retention
While higher humidity levels (i.e., more moisture in the air) will cause the cyanoacrylates to cure more quickly, lower humidity will slow the curing process down. This includes adhesives that spend extended amounts of time in the outside world, such as when getting shipped from warehouses to customers over the course of several days.
When ordering our Advanced and Flexible adhesives during the summer, we recommend purchasing faster shipping speeds to ensure that your new adhesives spend as little time as possible in transit. Of course, this will have the added bonus of reducing your wait time for your exciting new LashBeePro products!