The Ultimate Guide to LashBeePro Adhesives
Posted on March 02 2020
From dry times to storage tips, we've compiled everything you need to know about our adhesives - continue reading to learn more!
We've got three pots of honey: Advanced, Flexible, and Low Humidity. Let's break these down a bit more to better understand their best uses:
(Refer to the chart below for a summary of humidity levels + dry times)

Advanced:
Our Advanced Adhesive is our fastest-drying yet, perfect for the seasoned pro. It dries in 1-2 seconds and is most effective in 40-60% humidity.
Flexible:
As its name suggests, the Flex is our most flexible adhesive. New to lashing? The Flex might be perfect for you. Working in high humidity? The Flex has you covered.
If you're new to the lash game + your space is in the 40-60% range, the Flex is perfect for you because its dry time ranges from 3-5 seconds - plenty of time to hone in on your skills! If you're an advanced artist with humidity higher than 60%, we recommend the Flex, as the dry time is 1-3 seconds at this level.
Low Humidity:
Your saving grace for the colder months or dry climates! Our Low Humidity Adhesive is specially formulated to operate perfectly in 20-40% humidity. While it dries a bit slower than our Advanced (2-3 seconds), it'll still give you an ultra-strong bond.
Tips for LBP Adhesives:
Let's dive into tips + tricks for getting the most out of our adhesives!
Lashing Spaces + Lashing Time:
When it comes to adhesive, you want to select the correct one for your own lashing environment and lashing speed. Get a hygrometer to measure the humidity in your space and only seek out those formulated to work in that specific range.
Likewise, it's essential to select an adhesive with a dry time that works for your current speed. If you're using an adhesive that dries in 1 second but you take 3 seconds to place a lash, your lash bonds will suffer. It's better to use adhesive that dries in the time you personally take to place. When you find yourself holding extensions in place an extra second after placement, you'll know it's time to switch to a faster drying adhesive!
Remember that adhesives are not one size fits all - do your own research before making your decision! Before ordering the first adhesive recommended to you on a Facebook group, check to ensure it'll work in YOUR environment and with YOUR lashing speed. Just because an adhesive works perfectly for Cindy in Cincinnati doesn't mean it will work perfectly for you.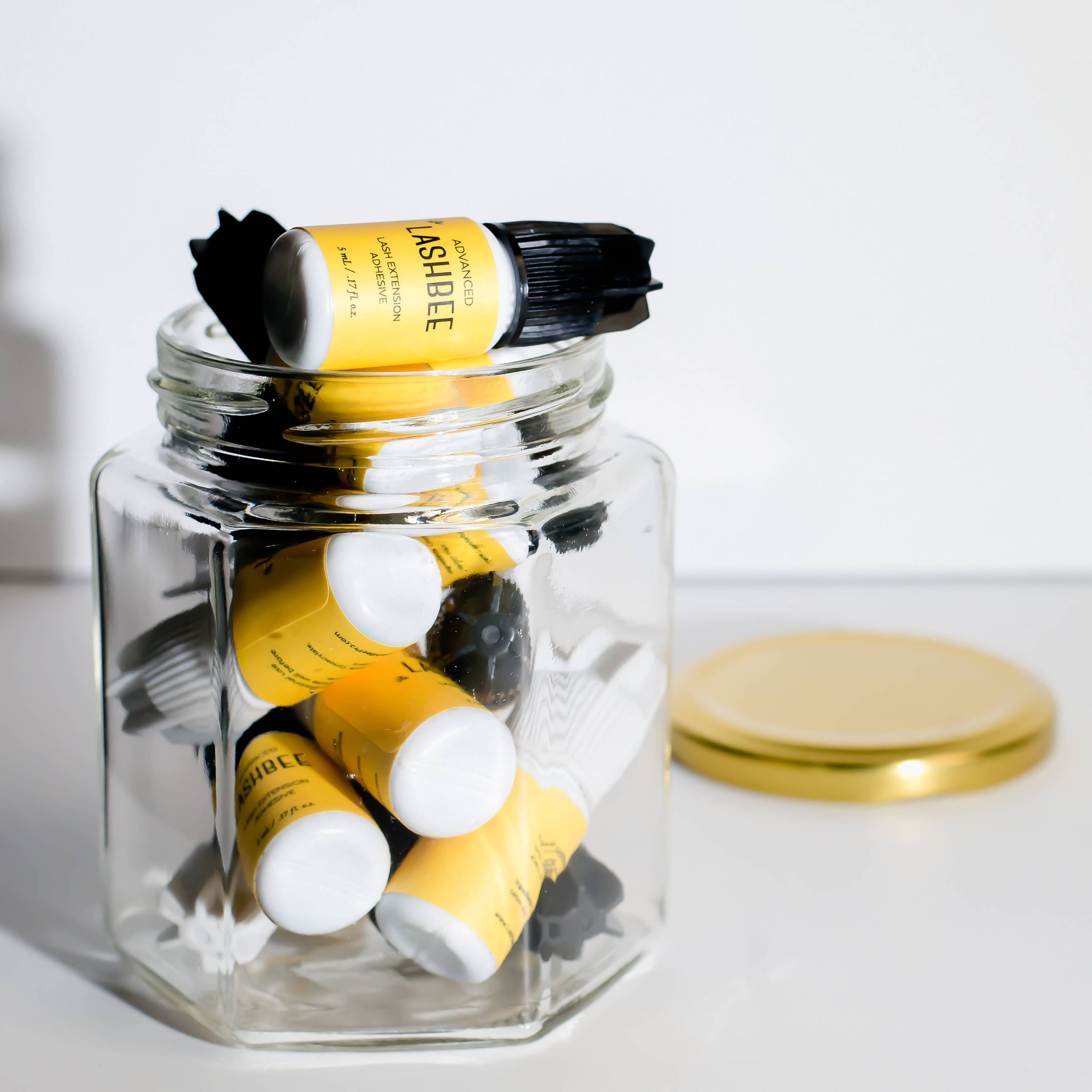 Proper Storage + Care:
With proper adhesive use comes proper storage. Your adhesive must be taken care of properly to get the most out of it for as long as possible.
Prior to opening, you can store your adhesive in the freezer - not the refrigerator - for up to 6 months or in a cool, dry place. Just make sure to let it fully get back to room temperature before opening it for the first time (usually takes about 2 hours). After opening, keep it at room temperature, ideally stored upright in an airtight container. Make sure your space stays at room temperature overnight - all too often rooms heat up when the AC is turned off in the summer, causing the adhesive to turn! Don't put it back in the freezer or refrigerator, as this can cause condensation to form inside.
When working with your adhesive, shake for a full 30-60 seconds before using to let all of the components come back together after sitting and separating. Consider purchasing a nail polish shaker (inexpensive options are available on Amazon) to save you some prep time in the morning - simply turn on the machine and let it do its magic while you prep for your first client!
After use, always burp the bottle and fully wipe the nozzle to prevent the cap from getting stuck. Close tightly to ensure no air gets in. Replace after a maximum of 5 weeks, but more frequently if you lash full-time or share the bottle with another artist. Air sneaks in every time you open and close the bottle - the last thing you want is to be doing complimentary fills because you hadn't changed your adhesive quickly enough!
We hope this can be a resource for any adhesive questions you may have - if you have any more tips + tricks, comment below!
Shop our Adhesives