So, you want to become a lash stylist (or upgrade your current lash skills)!
But how do you know which courses are, well, legitimate? How do you know if you're receiving the best value for your money, taking a course that arms you with the tools you need to truly succeed?

A Comprehensive, Public Curriculum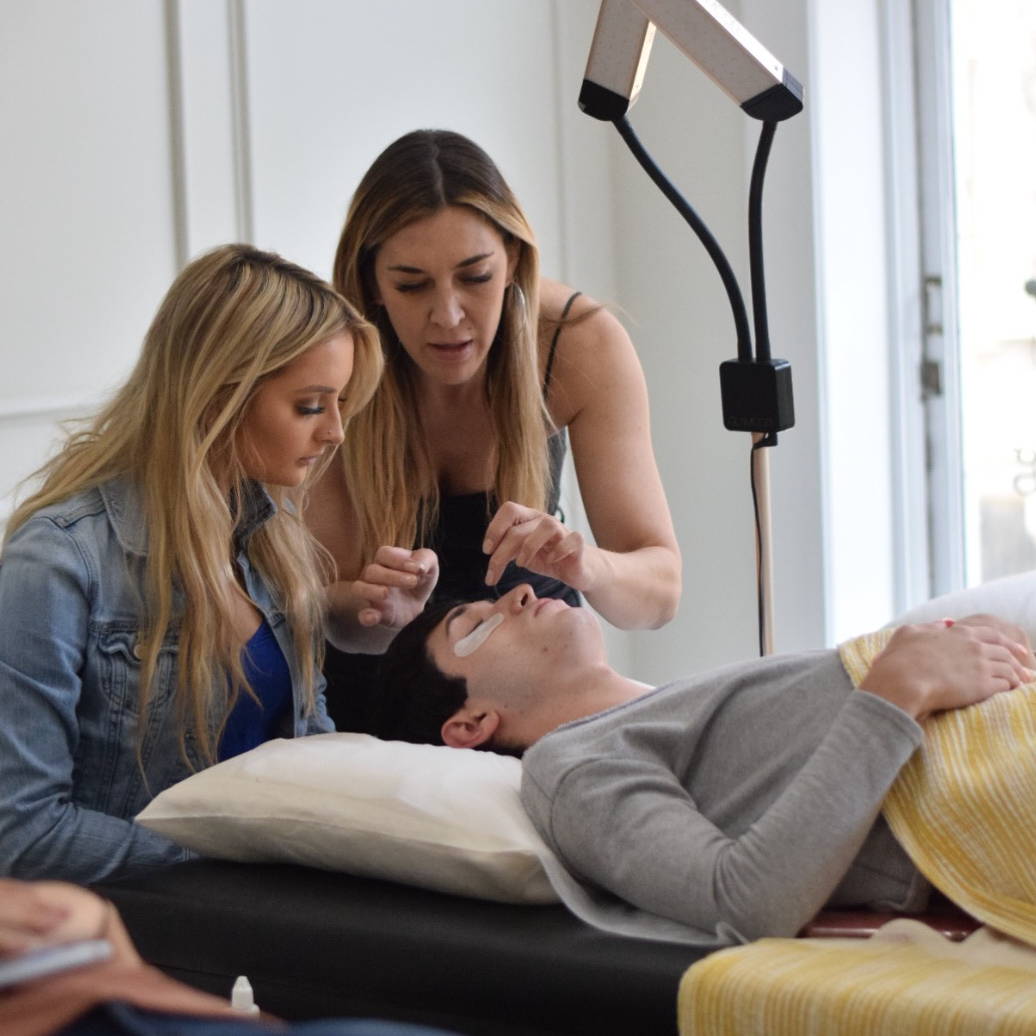 A great lash course will list their curriculum publicly, so you know ahead of time what you'll be learning — and it will be comprehensive!
You should be learning about the anatomy of eyelashes and lash growth, the extension application process, style selection, and client safety. You should also receive plenty of demonstrations and hands-on practice with live models to help you get comfortable with foundational topics.
Great classes will also touch on the basics of running successful lash appointments and studios, including safe extension removal, conducting fill appointments, and more advanced lashing techniques. Lastly, you may even look for business-building tips.
Most importantly, you should know that this is what you'll be getting before you sign up or put down a deposit.

Teaching Tailored To Your Needs

A great training course will work around you and your skill levels. This doesn't mean that your trainers will dumb down or fluff up their curricula. Rather, it means that they'll tailor the material to your needs. Have you already trained in lashes but need a refresher on isolation techniques or on creating the perfect environment for maximum retention in your studio? Your trainers should take the time to ask you your pain points or what you're hoping to get out of the course, and act accordingly.
One of the most important components of tailored teaching is the hands on component. Avoid all courses that completely eliminate working with live models (mannequin practice should always be followed by work on a live model!). Look for a commitment to personalized feedback, as well. Lashing requires motor skills that can be best learned from someone being able to adjust your positioning.

---
The Kit

Make sure you are training with a course that provides you the highest quality materials to begin practicing on clients. Ask for information on the kit and research the brand, the quality, and the content of the kit in advance. Don't settle for an instructor that pulls together materials haphazardly from different vendors - these instructors will not be able to speak to the manufacturing process. We have also found that when your finances permit, it's best to spring for the larger kit on offer, as you will often end up buying the extra materials anyway. You might as well save in the process!
Instructors

Many people are great at their trade - lashing - but have not necessarily been trained in how to actually teach. Look for a training where the teacher has learned how to best convey information to you! A great teacher makes all the difference in understanding core content.
Flexibility and Options for Pricing and Structure
---
An excellent lash training course will also offer you an array of options and class / pricing structures, so that you can purchase the course that best fits you and your unique needs.
For instance, while LashBeePro offers regular group classes multiple times a year at our flagship Philadelphia studio, we also offer custom private training for people who cannot make those dates. Our trainers can even travel to the student's location and provide missing equipment.
LashBeePro also offers salon + spa training programs that include salon managers and owners in the training and education process. This allows new lash stylists to launch their careers knowing their managers are fully equipped to support their lashing business.
---
---
Lastly, quality training can be a large investment! Rather than skimp on quality, look for programs that offer flexible payment options. At LashBeePro, we have partnered with Klarna to offer extremely flexible payment programs, giving you as much as 18 months to pay for your course!

Whether you're new to lashing or looking to enhance your skills, we have a class for you!