In business, client relationships are key. Whether you're selling a product or service, always keep your customer/client in mind. Getting clients in the door is one thing, but keeping clients over the long run is the name of the game! We have three simple but effective tips to help you develop long-lasting client relationships that will keep your books full.
Understand their needs
Getting to (really) know your clients is essential to the longevity of your relationship. Listen to their needs, and take an honest interest in them. Whether it's strictly business or chit chat about their lives, clients want to feel they are being heard - and understood! Doing so means a few things: being an active listener, understanding + clarifying their exact needs, and, of course, delivering on those needs.
The key to asking questions is how to ask therightones. Listen to your client and ask clarifying questions that will allow for a clear understanding of what your client really wants. You're definitely a miracle worker, but not always a mind-reader. You must ask questions to fully understand. While it may occasionally feel awkward to ask so many questions, it is much better to feel uncomfortable for a few moments if it means you can confidently execute on their vision.
Another simple way to show you care is to take notes during the initial consult. These notes should not only include information about your lash consultation, but should also include little snippets to help you remember clients as individuals (common interests, a special occasion coming up, etc.).
This is a win-win because your client sees that you're taking that extra step + you then have the helpful information for their future appointments! They will feel a connection + security in knowing that you care about their needs and you will then deliver on the vision they desire.
---
Tailor their experience
Clients want to feel catered to. Your clients should feel they're your top priority the moment they walk in the door. For many clients, their time spent with you is "me" time, a chance for total relaxation and to decompress from their daily grind.
Consider the following:
Greet your client by their name and a smile, immediately creating an open and welcoming environment upon which trust can be built

Ask how your client is doing (outside of only why they are coming to you for services)

Be an active listener - ask probing questions to get the full picture

Offer music (a variety of options) or an audio book

Provide a comfy setup (high-quality pillows that support their neck, a blanket, a memory foam top to your lash bed, etc.)

Walk them through the steps of the service (it gives them peace of mind and helps them understand what's coming next)

Offer your expert opinion on which retail products will work best for them. Caution, though: only recommend items you genuinely believe will benefit them
Backing up that experience with high-quality work will then seal the deal!
Follow up
So you provided top-notch service and built trust with your client! How do you ensure this turns into a long-lasting relationships?
Follow up! Proactively following up with your clients to see how they are enjoying their new lashes will keep you top of mind and allow you to address any concerns or questions they may have. If they haven't already booked their next appointment, use this follow up to remind them about how and when to get a fill.  
For first-time clients, we recommend reaching out using a business email, rather than a personal address (if you don't yet have a business email, now's a great time to set one up!). Using a business email boosts your professionalism and, just as importantly, separates your work and personal lives.
To make the process easier, create an email template that can be customized with the client's name and service received.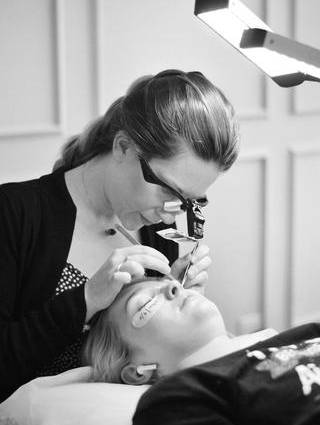 A great email includes:
A thank you for coming in

Before/after photos of their service (bonus - they might post them on social media or a review site!)

Include your top aftercare tips to help them maximize retention (how and when to wash their lashes, brushing regularly, etc.)

Details of their next appointment or a recommendation on when and how to book
Consider a booking system that automates this initial thank you email, as well as future follow up reminders.
By implementing these tips into your practice, you're sure to leave a lasting impression and increase the longevity of your client relationships - keeping them satisfied and your books full, permanently!